Well well well it's been a busy old month, make no mistake – fantastic new IP, exciting new clients, some thrilling events and new arrivals (of two different kinds) to speak about!
New Mobile Pie Games
There's plenty of ripe new games just bursting to be talked about so we'll start with that before they explode and cover the office with pixels and bytes.
First up: PEN PILOT. Get this, you're a stunt plane, going through hoops, which you control with a PEN! Yes it's as great as it sounds! Lead programmer DanT has promised a blog all about it, but for now I'll just say we're very excited, it's for the Samsung Galaxy Note range, should be published this Friday, and will be our first title released using a 3D game engine. Looky here:

Another piece of new IP to talk about, but in this one Mobile Pie were just a small piece of the… pie – as it's a collaborative effort by a group of talented indies who call themselves BoB (Best of British). BoB wanted something to showcase their skills and community spirit and came up with the idea of a Wario-Ware style piece of madness in which every team contributes 1 or more 7-second games, and the result was SUMMER SPORTS, which is in submission now, I believe. I can't mention this project without a huge shout out of thanks and admiration to Alastair Aitcheson, (a.k.a. Alastair Aitcheson Games) who built the framework that held it all together and made it happen, and Mind Candy for lending us their offices. Thanks guys! The weekend was highly enjoyable and even included a Micro Machines tournament guested by Codemasters founder David Darling and MM creator Andrew Graham – pretty awesome! Thanks to them and the rest of the Kawalee team who came along. Mobile Pie contributed two games, a fencing swashbuckler and a horse jumping extravaganza.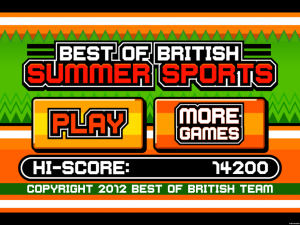 Summer Sports
Wait… hot off the press – one more game has just been created! DanT, MattA, MattiasT, and TommyP made their way as fine representatives of Mobile Pie to the Gamify Your PhD game hack, in which teams of game-makers were paired with a scientific PhD researcher to produce something fun and educational. The Mobile Pie team's research area was Malaria and the game was SIMALARIA. The idea of the game is to control different chemical reactions taking place within a Malaria Parasite in a red blood cell, in the form of a resource management puzzle game. For the short space of time taken to produce (two days), I think it really displays the talent we have here. Simalaria won third prize, congratulations to Opposable Games and a team including Nick Dymond, Ashley Gwinnel and Clockwork Cuckoo who took second and first respectively. Here's a Simalaria screenshot, and also a game TommyP made single-handedly in his spare time – show off!
Client Work
Ok, on to Mobile Pie's client work now, and we are extremely pleased to announce a new partnership with P2 Games. They specialise in games for younger users and a quick look over the app store charts for Kids Games shows you how successful they are! They've worked with some huge names and licenses such as Bob the Builder and Peppa Pig – I can't reveal the project we're working on just yet but I can reveal it's very bright, colourful, noisy and jolly 🙂
Also our highly valued partnership with Spil Games continues as we carry on with updates for Shopaholic World for iOS. Oh yes, it's a shopping game!
There's been some exciting work done with Home Sheep Home 2, the Shaun the Sheep game we've put on iOS for Aardman Digital, but we're holding back on that as there will be a big reveal later…
Events
Our insatiable thirst for game-making knowledge never stops (obviously) and this took TomD and DanT off to Amsterdam for the Unite 2012 conference, all about our favourite 3D Game Engine, Unity. There was a fantastic mix of motivational talks from inspirational figures like Peter Molyneux and Brian Fargo, and code heavy practical sessions on subjects such as optimisation. It was held in the rather hip Westergasfabriek, there was an awesome party with free tequila and pancakes, and Tom even found a naked stranger in his hotel room when he got back – eventful few days!
Last week we took a break from all the hard work and headed to Mill-on-the-Brue in Somerset for our annual summer outing where we got up to such events as raft-building, archery, zip-wiring and camp-firing! I think that 4 team members falling into the river on a woefully inadequately balanced raft was a great morale boost – for everyone else. Sunny weather too:
People
It's been a whirlwind month as well in terms of personnel. We've said goodbye and fond farewell to our Producer Nick Dymond (who as you can see is already winning competitions ahead of us!), 2011/12 interns Valentin Kalchev and Dave Callaghan (both fantastic prospects for the future) and Office Manager Naomi Smyth (who is off on a boat making a documentary about surviving the future, the blog is recommended reading!). They've all made fantastic contributions and we wish them all well.
On the other hand, we welcome new interns Mattias Toth (Swedish beat 'em up fanatic), Alastair Callum (already displaying a penchant for Burger King), and new Office Manager Liz Mizon (friend of Naomi, super organised and cheery, and another documentary maker! ) Look out for a new team line-up photo soon.
Ah, but the other type of new arrival? It must be… little Hugo Wilson, son of proud parents Rich and Amy, born on 11th August. Congratulations Rich! A lovely note on which to finish this post.